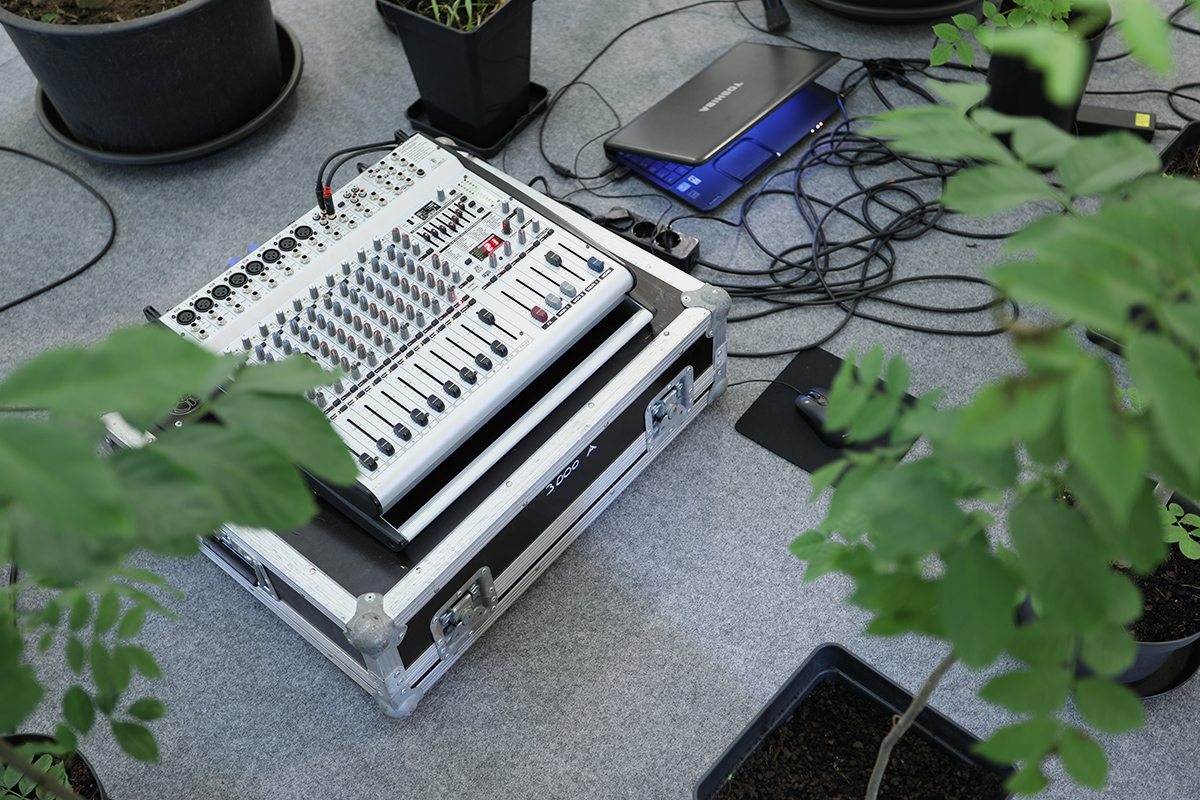 Museu História Natural
MHNC-UP, Porto

Yota Ayaan
Mariana Sottomayor
Stefaan Van Leuven

Pushing back on biosensing techniques to open new ideas on plant acoustics with latest data acquistion technology from the Laboratory of Plant Ecology, Ghent University Belgium.

Four-channel audio installation, Fraxinus excelsior trees, sound desks, laptops, power cords, stand, speakers

Duration: 24:00:00
Photography: Carlos Campos

Press release:

During a residency at Faculdade de Ciências da Universidade do Porto, Yota Ayaan worked with Mariana Sottomayor, a Professor of Cell Biology developing research in leaf cell physiology of a medicinal plant at CIBIO-InBIO, to find new data, ideas and research on plant harmonics. At first they found a recent trend in biosensing techniques met with doubt and debate at its scientific fortitude. Going deeper into European laboratory networks, they came upon the relatively new field of acoustic emissions (AE) acquistion and the extensive body of work of Professor Kathy Steppe from the Laboratory of Plant Ecology at Ghent University.

The AEs have never been recorded as sound, only numerical data. The laboratory provided data records taken from the ash tree or Fraxinus excelsior, featured exclusively in the exhibition. In their conversations Steppe suggested that the role of the artist here is necessary, we must attempt to convert this AE data, to interpret it in order to render it accessible. Ayaan then worked in collaboration with Stefaan Van Leuven (Soulwax) on data interpretation and produced a multi-channel, twenty-four hour looped musical arrangement.

The data structures are complex. When converted via software to humanised sound they present an otherwordly oeuvre. There are two sound systems in the work, both based on AE data and extruded into two contrasting time signatures. The first system plays thousands of AE events in real time, while the second system interprets the solar path, where the sound arcs in and out of the piece over a duration of 24 hours.

This solar arc is significant in the data as plants eat light, and this pattern and formation is seen most clearly in graphic interpretations. The sonic activity lies almost dormant during the night overture and slowly builds as the sun rises, presents a symphonic crescendo around midday and gradually fritters away as the sun sets.