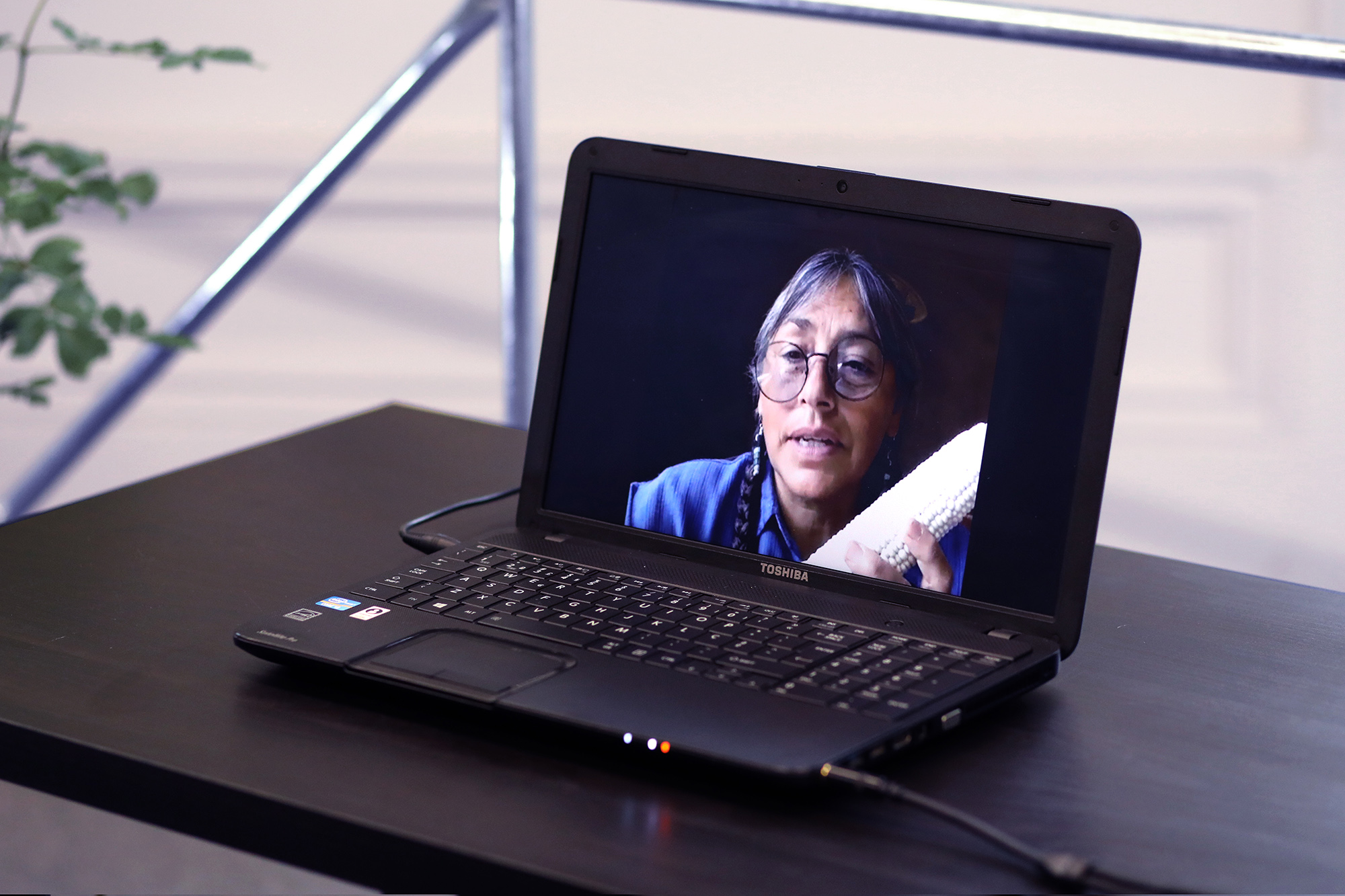 Plant Spirit
Museu História Natural
MHNC-UP, 2021

Yota Ayaan
Jackson Gore

A multimedia sound and video installation in the form of a home office within an illuminated greenhouse structure, that plays on a laptop video recordings of four talks held on zoom featuring personal stories and insights on plant beings and spirits from community ritual leader Miguel Rivera, researcher and evolutionary ecologist Monica Gagliano, herbalist Mark Jensen and sculptor and indigenous food activist Roxanne Swentzell.

Duration: 1:04:00

Video installation: fraxinus excelsior trees, metal frame, home office desk, home office chair, fans, LED lights, sound desk, laptop, power cords, speakers.

Photography: Carlos Campos

Transcript
At first, and I'm sure you know this, it's almost utterly overwhelming. Because you suddenly realise that we're this one little arrogant upstart species, you know, and we're surrounded by a vibrant, alive, interactive matrix of life. That's been here for hundreds of millions of years. And we've been lost in our thoughts. We've been lost in this misguided sense of superiority. And this way that has lead us to a profound sense of separation. In a sense we need to honour the findings of contemporary botany and phytochemistry. We need to honour the folklore and traditional use of medicinal plants. We need to honour the indigenous teachings of plants. But there is this other section of that wheel that involves the dreaming place. It involves that place we call spirit. That place were we find ourselves touched and moved by our encounter with a plant. By an other than human part of the natural world. And that's where that aliveness enters that wheel. It's the motor of that whole wheel. That drives it.

– Mark Jensen for Plant Spirit
Plant Data
Museu História Natural
MHNC-UP, 2021

Yota Ayaan
Mariana Sottomayor
Stefaan Van Leuven

Duration: 24:00:00

Four-channel audio installation, Fraxinus excelsior trees,
sound desks, laptops, power cords, stand, speakers

Photography: Carlos Campos
Press release

In 2020, artist Yota Ayaan based in Porto, and Mariana Sottomayor, a Professor of Cell Biology at the Faculty of Sciences of the University of Porto, developing research in leaf cell physiology of a medicinal plant at CIBIO-InBIO – Research Centre in Biodiversity and Genetic Resources, started working with Professor Kathy Steppe from the Laboratory of Plant Ecology at Ghent University, one of the top labs in detection of 'acoustic emissions' (AEs) in plants. In their conversations Steppe suggested that "actually the role of the artist here is necessary, we must attempt to convert this AE data, to interpret it in order to render it accessible". The lab provided data records taken from the ash tree or Fraxinus excelsior, featured exclusively in the exhibition.

Ayaan then worked in collaboration with Stefaan Van Leuven (Soulwax) on data conversion into a multi-channel, twenty-four hour long musical score. The data structures are complex and convert to something not at all like human music. There are two sound systems at work, both based on data but extruded into two contrasting time signatures. The first system tracks thousands of real-time sound "events" occurring as specific plant cells fill and empty with air and water. Scientifically you would say these sounds are the flow of water and the formation of air bubbles in xylem vessels, between hydration to dehydration and back again. The second system is concerned with the solar path where the sound arcs in and out of the piece over a duration of 12 hours, this arc is significant in the data records. The second transmission is composed in a vastly slower time scale than the first, based on a single AE event.
AE Data records from the Laboratory of Plant Ecology, Ghent University
There are layers to the sound of plants concerned with principle forces: light, air and water. The first layer of sound comes from the body growth and movement toward sunlight. On the solar path. Plants eat light. The next layers are thousands of "events" occurring as specific cells fill and empty with air and water. Scientifically you would say it's the flow of water and the formation of air bubbles in xylem vessels. Between hydration to dehydration and back again. Just like humans and all non-human beings, oscillating between charging and recharging.

The term 'Plant Data' is more accurate than 'Plant Music'. It holds plants in a higher regard, in that, we are not projecting our ideas on them and how they might sound. Afterall, plants are still mysterious in many ways and we have more to learn and unlearn about them.

When converting sound wave data points from one being to anothers ears, time is also a curious component. Plants live much slower than us, or so we assume, so a three minute 'song' does not really apply. Our score has been written in another dimension. In the end, we produced a 24 hour multi-channel work that is synchronised with the sun, like clockwork, but also alive, wild and radiant, like the data.
Study for Plant Data
Museu História Natural
MHNC-UP, 2021

Yota Ayaan
Stefaan Van Leuven

Duration: 9:00

2–Channel audio installation, sound desk, laptop, power cords, stands, speakers

Photography: Carlos Campos
Excerpt
An experimental sound installation consisting of four freestanding human-sized speakers facing each other. This piece is a preliminary sketch of Plant Data, a free interpretation of what plant sounds could be. The result is a dreamlike, cosmic and enveloping music. The sounds are slow, soft and vibrant. They mingle with the songs of birds and the wind that resonates between the branches of the trees of the Jardim Botânico. The large window, open to the outside, lets sounds and smells enter the exhibition. This intersection between natural and cultural, art and science, creates a doorway into the green world.
There are two suns (TATS)

Self published
Bound by Ana & Carvalho
R. do Sol 80, Porto

2020, English
12 x 18 cm
44 pages
softcover