Trauma Response
Duplex AIR
Lisbon
Group exhibition with Catarina Simão | Filipe Cortez | Juliana Matsumura | Maria Máximo | Marie Antoinette | Theodore Ereira-Guyer | Yota Ayaan
Curated by Judith Hofer
Referring to remote viewing and extra sensory intelligence, The Basket proposes that in the same way we only understand bits and pieces of non-human consciousness and communication, we are just beginning to grasp the operating principles of our own.
On the floor underneath a single hanging speaker are placed three specimens of live Hericium Erinaceus. The sound work recorded on Ayaan's phone plays quietly above, denoting parallels in intelligence and sensory communication capacities in human beings and non-human beings through invisible perception networks. These natural phenomenons can be only partially quantified by physics under the study of entanglement and the quantum matrix, networks of the metaphysical.
On a wall nearby The Basket is projected as a video text amalgam, telling the story of a fictional protagonist who came into contact with the topic of remote viewing and telepathy. Rather than evolving technologically towards artificial and machine intelligence it feels out some other options, such as – that there might be much to discover within the field of human intelligence.
t.ly/y24Kf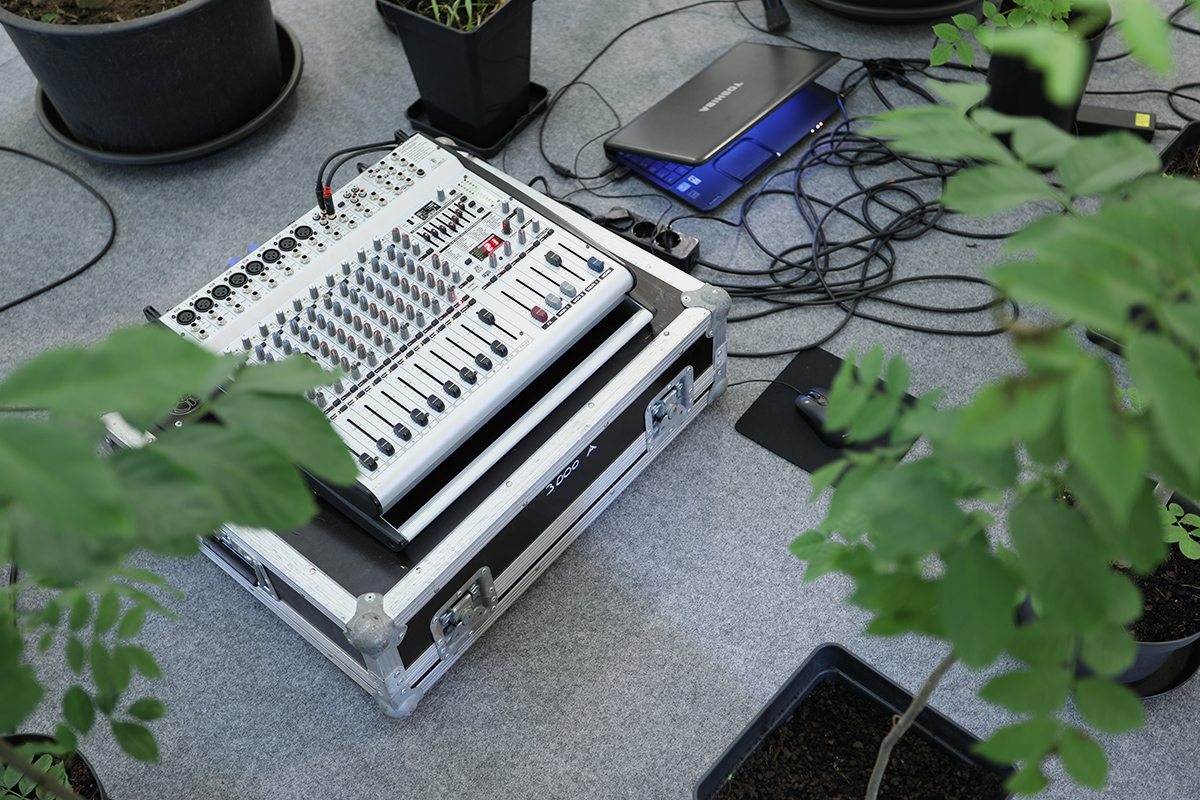 Museu História Natural
MHNC-UP, Porto
Yota Ayaan
Mariana Sottomayor
Stefaan Van Leuven
Pushing back on biosensing techniques to open up new ideas on plant intelligence and harmonics with latest data acquistion technology from the Laboratory of Plant Ecology, Ghent University Belgium.
Four-channel audio installation, Fraxinus excelsior trees, sound desks, laptops, power cords, stand, speakers.
Duration: 24:00:00
Photography: Carlos Campos
Press release:
During a residency at Faculdade de Ciências da Universidade do Porto, Yota Ayaan worked with Mariana Sottomayor, a Professor of Cell Biology developing research in leaf cell physiology of a medicinal plant at CIBIO-InBIO, to find new data, ideas and research on plant intelligence and harmonics. At first they found the recent trend in biosensing techniques met with doubt and debate at its scientific fortitude. Going deeper into European laboratory networks, they came upon the relatively new and more credible field of acoustic emission (AE) acquistion and the extensive body of work of Professor Kathy Steppe from the Laboratory of Plant Ecology at Ghent University.
Plant AEs have never been recorded as audible sound, only numerical data. The laboratory provided data records taken from the Ash tree or Fraxinus excelsior, featured exclusively in the exhibition. In their conversations Steppe suggested that the role of the artist is necessary, we must attempt to convert the data, to interpret it, in order to render it accessible. Ayaan then worked in collaboration with Stefaan Van Leuven (Soulwax) on data interpretation and produced a multi-channel, twenty-four hour looped musical arrangement.
When the data records are converted via software to humanised sound they form a dynamic drone-like composition. There are two sound systems in the work, both based on AE data and extruded into two contrasting time signatures. The first system plays thousands of AE events in real time, while the second system interprets the solar path, where the sound arcs in and out of the piece over a duration of 24 hours.
This solar arc is significant in the data as plants eat light, and this pattern and formation is seen most clearly in graphic interpretations. The sonic activity lies almost dormant during the night overture and slowly builds as the sun rises to a crescendo around midday and gradually fritters away as the sun sets.
t.ly/v6IU
Plant Spirit at MHNC-UP
2021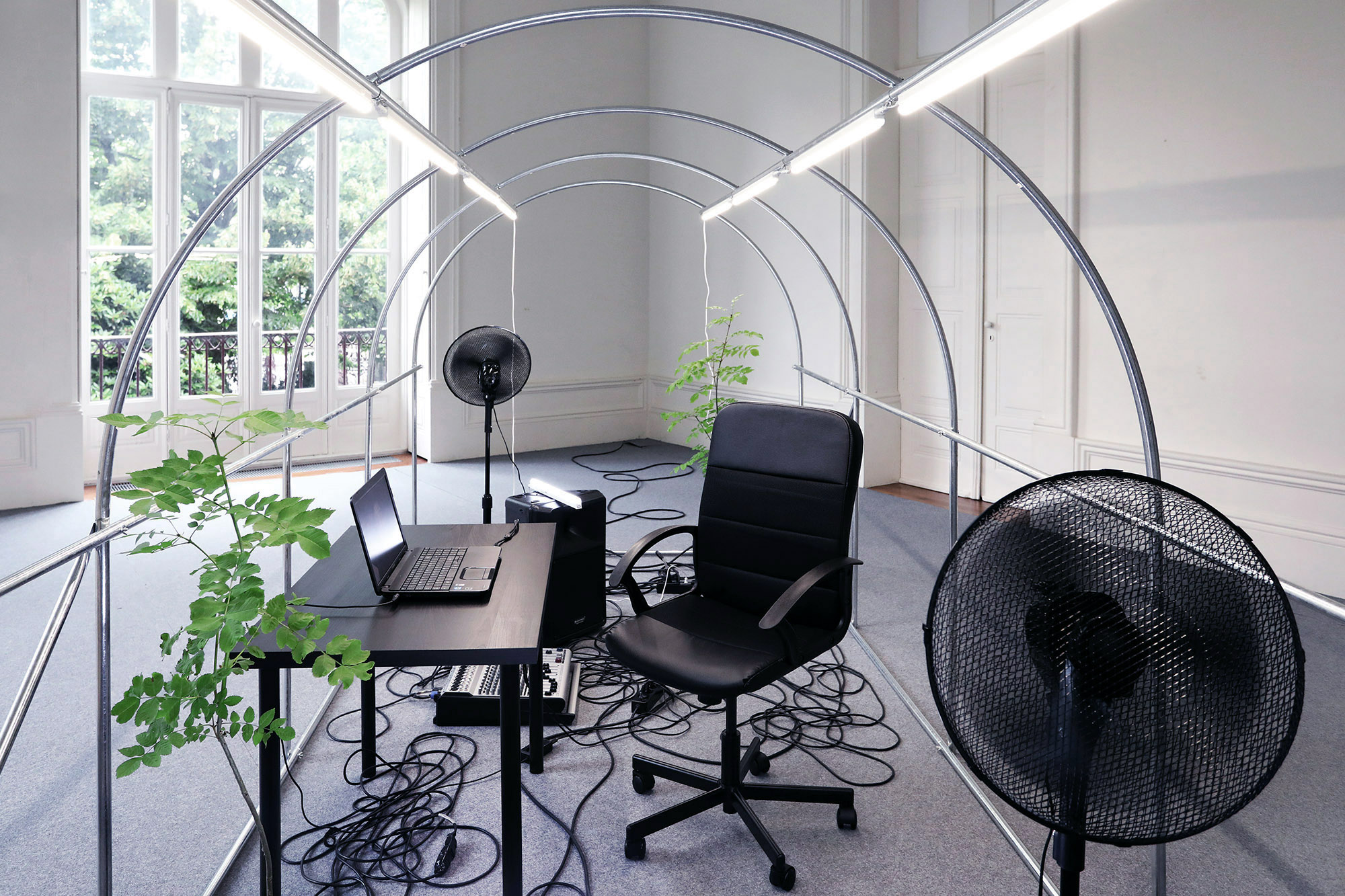 Museu História Natural
MHNC-UP, Porto

Yota Ayaan
Jackson Gore

Video installation: fraxinus excelsior trees, metal frame, home office desk, home office chair, fans, LED lights, sound desk, laptop, power cords, speakers.

Multimedia home office within an illuminated greenhouse structure, plays on a laptop and industrial speakers video recordings of four talks from plant communicators. Featuring community ritual leader Miguel Rivera, researcher and evolutionary ecologist Monica Gagliano, herbalist Mark Jensen and sculptor and indigenous food activist Roxanne Swentzell.

Duration: 1:04:00 loop

Transcript:
At first, and I'm sure you know this, it's almost utterly overwhelming. Because you suddenly realise that we're this one little arrogant upstart species, you know, and we're surrounded by a vibrant, alive, interactive matrix of life. That's been here for hundreds of millions of years. And we've been lost in our thoughts. We've been lost in this misguided sense of superiority. And this way that has lead us to a profound sense of separation. In a sense we need to honour the findings of contemporary botany and phytochemistry. We need to honour the folklore and traditional use of medicinal plants. We need to honour the indigenous teachings of plants. But there is this other section of that wheel that involves the dreaming place. It involves that place we call spirit. That place were we find ourselves touched and moved by our encounter with a plant. By an other than human part of the natural world. And that's where that aliveness enters that wheel. It's the motor of that whole wheel. That drives it. – Mark Jensen for Plant Spirit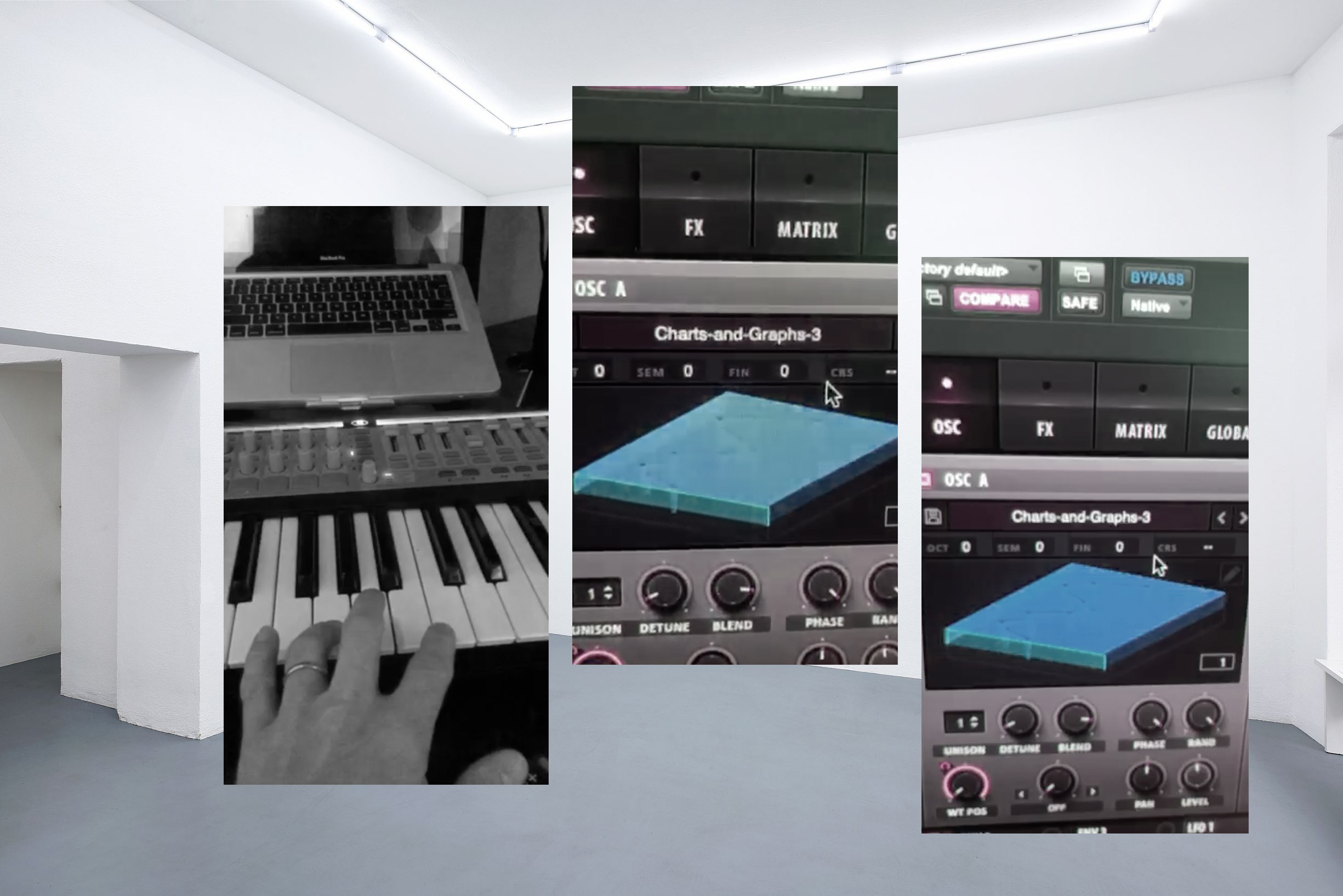 Museu História Natural
MHNC-UP, Port0
Yota Ayaan
Stefaan Van Leuven
2–Channel audio installation, sound desk, laptop, power cords, stands, speakers
Duration: 9:00
Photography: Carlos Campos
Sound installation consisting of four freestanding human-sized speakers facing each other. A preliminary sketch of Plant Data, a free interpretation of what plant sounds could be. The result is a dreamlike, cosmic and enveloping music. The sounds are slow, soft and vibrant. They mingle with the songs of birds and the wind that resonates between the branches of the trees of the Jardim Botânico. The large window, open to the outside, lets sounds and smells enter the exhibition. This intersection between natural and cultural, art and science, creates a doorway into the green world.
–
text from
Plant Data, Beyond our Understanding of Plant Communication by Alice Bonnot 22.07.2021
rb.gy/pmjdqd